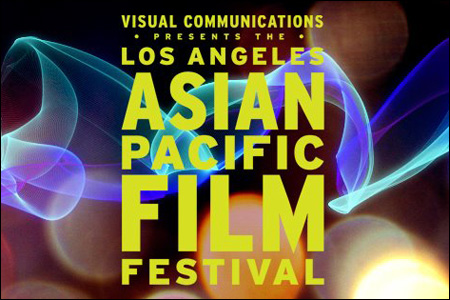 Randall Park, the star of Nickelodeon's "Supah Ninjas", is slated to appear at the screening of - "LOVE, NY" - an Official selection and Programmer's pick at the Los Angeles Asian Pacific Film Festival.

The much-anticipated flick is scheduled for a May 12th premiere at 10:00 p.m at the Director's Guild of America.

The romantic comedy - also starring Jae Suh - is a tale about a lonely tourist (Suh) who meets up with a jaded New Yorker (Park) out to take her on a memorable adventure in the "Big Apple".

Critics have hailed the flick a "refreshing take" on culture clashing.

Randall Park is one of a handful of Asian American actors who have had the great good fortune to land major roles in the mainstream in recent years.

Last year, I interviewed Mr. Park on the red carpet at the DGA and found him to be outgoing and down-to-earth.

Undoubtedly, his success in front of the cameras is very much deserved.

The project was directed by award-winning Taiwanese American Filmmaker Vincent Lin for Valiant Pictures.

Valiant Pictures is an innovative company that has risen up in the ranks of late.
The company focuses on film projects that are compelling and memorable in respect to storytelling.
In addition, Valiant has fingers in media-rich areas of production such as in the lucrative field of commercials, music videos, and digital content.

Matthew D'Amato (the founder/producer) is best-known for his collaborations with award-winning directors on the high-profile commercial end for such products as Nike, Axe, Puma, Coke, AT&T, Guitar Hero, and Skittles, to name a few.

Catch the flick if you can, eh?



INFO





http://www.valiantpictures.com