Was it all a charade to protect Jason Simpson?


"OJ IS GUILTY...BUT NOT OF MURDER" won the Best Documentary Award at the Backlot Film Festival in Culver City, California, this past week.

When I noticed the "Backlot Film Festival" scheduled the documentary on the shocking murders of Nicole Simpson and Ron Goldman for screening, I was inclined to pass on taking it in, initially.

After all, during the course of the original trial in Los Angeles, I wiled away a number of leisure hours following the legal wranglings in detail. But later, felt ripped off, when a quickie verdict was rendered within a few hours after deliberation began.

Yeah, I thought at the time, "white folks" should take to the streets and riot for a change!

But, by a twist of fate, I ended up at the screening yesterday. And consequently, I came face-to-face with Investigator - William Dear - who has been investigating his theories on the Simpson-Goldman murders for the past fourteen years.

After a brief discussion on some of the semantics, the charismatic investigator noted that actor Charlie Sheen was so intrigued by the suppositions that he was on his way to the Theatre to take the screening in.

A few years ago, I worked on a minor scene in the feature film - "The Boys Next Door" - which was directed by Penelope Spheeris and starred Mr. Sheen. On that occasion, we acknowledged each other from a distance; but basically, we were just two ships that passed in the night.

As he stepped in the door, I was taken by his confidence and the manner in which he carried himself these days. A far cry from his wild bachelor days! After a few perfunctory handshakes, the entourage entered the theatre for the unveiling of the doc.

In passing, I overheard one filmmaker ask, "Is the LA Times here?"

When a staffer said "no", he probed further,

"Did they slip in without you noticing?"

Again, a response in the negative. And, that appeared to be a portent of what was to come.

After the screening of the provocative doc - which was not unlike a TV infomercial in many respects - Dear lamented to the enthused audience, "Where are the media???"

And exasperated, answered his own question, "They're not here!"

That was unfortunate because in his insightful documentary - titled "OJ IS GUILTY...BUT NOT OF MURDER" - Mr. Dear has presented an interesting scenario, supported by evidence he has gathered in his lone investigation over the past decade or so.

In a nutshell...

Mr. Dear alleges that Jason Simpson, OJ's son, was the real killer; then, proceeds to systematically present the evidence in straight-forward convincing manner to support his claims.

For starters, the respected investigator notes that Jason Simpson suffered from a bipolar disorder, and was subject to nasty outbursts and rages. Then, Dear proceeds to establish that just prior to the murders there were a couple of documented incidents of Jason pounding on his girlfriend.

Evidently, Jason stopped taking his medicine - Depakote - which heightened the problem.

At this juncture, Dear takes a foray into the world of an afflicted person and underscores the potential scenarios that may unfold when a bipolar individual neglects to take their medications to curb the illness.

As that bit of evidence settles into the old psyche, he moves on with gusto.

The investigator now focuses on disturbing revelations that pertain to Jason's alibi for the night of the murders. When questioned, the LAPD allegedly stated for the record, that the alibi had been checked and Jason had been summarily written off as a suspect.

However, Dear's investigation proved otherwise.

After a thorough examination of transcripts, and in-depth interviews with key witnesses, it was determined that Jason's alibi had not been verified. Moreover, there were huge holes in it, as well.

For instance, Jason Simpson testified in a deposition in Goldman civil suit, that he was preparing a dinner at Jackson's restaurant (where he was a chef) for 200 people that fateful evening. However, employees verified in on-camera interviews, that - on the contrary - Sunday night was not only slow, but no such dinner party was ever hosted.

In sum, convincing testimony established that Jason's whereabouts - as he recalled them - did not ring true.

Moreover, an inspection of a "time" card at the trendy eatery in Brentwood, raised a specter of doubt as to the veracity of information of its face. So much so, that as Mr. Dear probed further, a silent partner in the restaurant finally admitted on record that Jason's alibi was foisted up as a defense was not the truth.

But what about motivation for the crimes?

The main theory is that Jason became angered when Nicole and the family decided to forgo on stopping by the restaurant that evening for dinner - and that the slight - pushed Jason (prone to rages) over the edge.

Dear theorizes that after taking his girlfriend home around 9:30 p.m., Jason sped over to Bundy and knocked on Nicole's door to confront her about the blatant rejection which rubbed him the wrong way.

OJ's ex - who was expecting Goldman that night - allegedly opened the door and an argument ensued. At some point in an exchange of harsh words, Nicole triggered a nerve in Jason, and he struck her.

At this juncture, Dear contends that Goldman arrived on the scene.

To subdue Nicole, Jason drew a knife out of his boot (which he was known to carry and which was later recovered) and struck a blow to her head. Stunned, she fell to the ground.

Now, Jason turned on Goldman, who became trapped in the small fenced in area near the front door that has been subject of much controversy.

To further the argument that Jason was the true killer, Dear notes that Jason is a more likely suspect for a couple of obvious reasons overlooked by the LAPD.

First, OJ was inclined to get nauseous at the sight of blood; so, Dear asserts that he did not have the "stomach" to commit such a gruesome crime. Further, he stresses that Simpson's weak knees and lack of overall strength in the lower extremities would have made it very difficult for him to overpower Goldman, a young athletic man in his prime.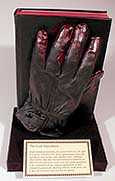 On the other hand, Jason had studied combat in the Navy and was a capable fighter, who was expert in the handling of knives.

But, hold on.

Curiously, additional evidence was uncovered which is even more compelling.

For instance, Dear was able to purchase a boxful of personal effects which Jason Simpson had placed in storage, which went up for auction when the bill was not paid. In that box there were a number of incriminating items.

In personal handwritten diaries, Jason referred to himself as a "Jekyll & Hyde" personality in one paragraph, then laments in the next that he was currently - "living in the year of the knife."

Astoundingly, a double-edged knife - that experts concede could have been the murder weapon - was found in the box, as well.


And, do you recall that wool cap that Johnny Cochrane made the fuss about in the courtroom when he barked about the glove,

"If it doesn't fit, you can't convict"?

The Investigator found photos of Jason wearing a similar hat in the carton of keepsakes.

In sum, Dear concludes that OJ Simpson was not guilty of the murders of Nicole and Ron; but rather, an obstruction of justice - or quite possibly - complicity in the commitment of one.

Bottom line, it would appear that OJ Simpson took the rap for his son; a young man who was mentally unstable and incapable of defending himself for the crimes allegedly committed.

Yes, Mr. Dear has put together a tantalizing theory, supported by evidence that cries out for justice, or at least a second look by Law Enforcement.

But, guess what?

The investigator has been stone-walled in his efforts to have the case re-opened. The LAPD, for instance, won't take a look at his findings. And, despite his pleas, the State Attorney General's office refuses to re-open the case, as well.

Dear's only hope now is that by presenting his "case" - by way of the documentary - a concerned public will become intrigued with the wealth of incriminating evidence and demand that Justice be served.

Do the murders warrant further investigation?

You decide.

Info: http://www.theoverlookedsuspect.com

William C. Dear argues that Jason Simpson is the true killer